When relocating to Los Angeles or any other city in the U.S, we as moving experts and the authorities recommend that you pay special attention to the safety rating for your chosen neighborhood as it will heavily impact your quality of life once you take up residence. As you have chosen to move to the city of Los Angeles, you may be wondering, how safe is Los Angeles? In this article, we will explore if Los Angeles as a whole is a safe city, how to determine if the area you are relocating to is safe and our top safety tips no matter where you are.
See Related: What Colleges Are Located In Los Angeles?
How Is The Safety Rating Of A City Determined?
There are several key factors that safety experts use to determine if a city is safe. The safety of an area is usually determined by comparing the crime rate in the place with the national average.
Some of the top warning signs that an area is unsafe include:
Too Many Abandoned Rental Houses
If prospective tenants are avoiding an area like the plague, it mostly usually means that their research has proven that the place is unsafe. In neighborhoods that are deemed safe, rental houses typically tend to be snatched off the market quickly.
Abandoned Business Premises
In an area that is deemed unsafe, entrepreneurs usually avoid opening up business for fear of being robbed or lack of clients since potential customers feel unsafe.
Heavy Police Presence
Police will always be present in an area with a heavy crime rate to deter criminals from making life unbearable for residents and visitors.
High Crime Rates
Professionals in the safety sector and policing authorities tend to periodically release crime statistics for cities across the U.S. A city/neighborhood that has been consistently fingered as having high crime rates is usually considered unsafe.
Is Los Angeles Safe?
Given the history of Los Angeles in the early nineties with the Los Angeles riots, a big question that many people from outside Los Angeles constantly ask, "is Los Angeles safe?" Like most other cities, the city of Los Angeles has safe neighborhoods and it also has areas that are considered to be generally unsafe. Los Angeles is known for many tourist attractions which is an indication that the city of Los Angeles is generally well policed making it generally safe.
One of the areas in the city of Los Angeles that is generally considered to be high-risk is the Southside as well as downtown Los Angeles. In the highlighted areas, safety is a bit of an issue because of gang activity.
Bonus: The Best 5 Hospitals In Los Angeles, California 2020
Los Angeles is not all glitz and glamour
If you have traveled to downtown Los Angeles lately, especially during Covid 19, you will notice how desolate it may feel. For female travelers, I would recommend not venturing out too much at night around the wholesale district also known as Skid Row. There is a reason for why the public transit doesn't have a main hub stationed in Skid Row. It's because Skid Row has been decimated by violent crime and homelessness. If you do venture out to this side of downtown Los Angeles, you must make sure to be aware of your surroundings.
Make sure to take public transportation instead of walking on foot. Just by the looks of the sidewalks layered with tents and garbage, you'll have your answer rather quickly to the burning question, is Los Angeles safe?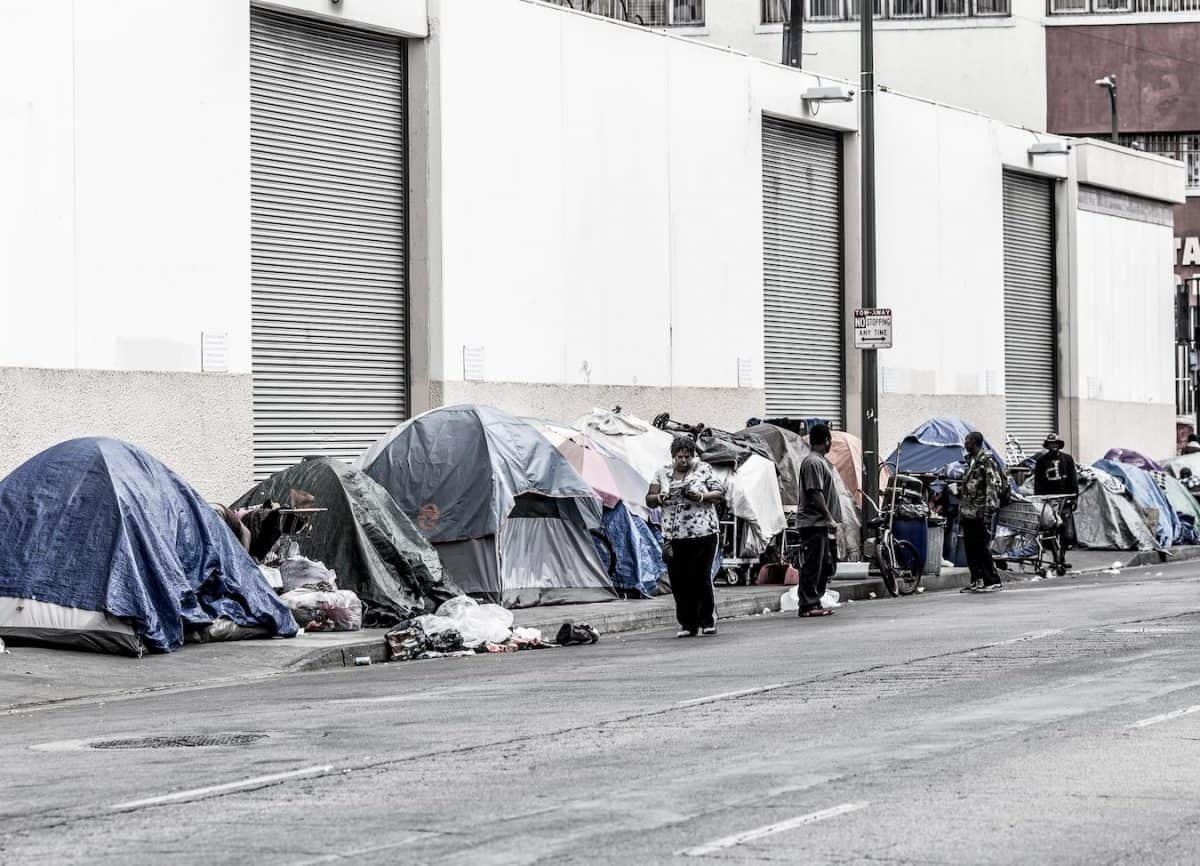 This doesn't look like Los Angeles..?
Skid Row is only a few miles from the famous Hollywood walk of fame, the beaches of Santa Monica, the mansions of Beverly Hills, and the historic Hollywood sign, yet if feels like a world away. When you think of southern California, you don't necessarily equate it to violent crime and gang violence, but you must keep in mind that Los Angeles is a big city, and one of the biggest in the United States.
Formerly known as South Central Los Angeles, this neighborhood has suffered tremendously over the years from gang violence and violent crime. With the recent Covid 19 pandemic, South Central Los Angeles has only affected even more. If you want some travel tips for Los Angeles, we would recommend that female travelers avoid the area and travel to other parts of the city of Los Angeles during their visit.
So is South Los Angeles safe? The short answer is no. Gang violence has become a part of the fabric of the area, and remains a problem for outside investments to come from other parts of the United States. In 2019, violent crime was estimated at 1,702, which was a striking 347% greater than the national average for the United States. Property crime was also high at 3,022.
Will public transportation help keep Los Angeles safe?
Many believe that public transit can help keep a big city like Los Angeles safe. The school of thought is that with more options for public transport, the less desirable areas will start to be more easily accessible. And in turn, perception will change. It will be easier to get around, and travel through. What once seemed too dangerous and inaccessible will now be perceived as far less dangerous with new public transport portals and other safe options of travel. This will bring in more outside money to these neighborhoods, and help people see the possibility for safe night life and growth.
Is a safe South and Downtown Los Angeles wishful thinking?
Of course it will take city council to allocate more public funds to help turn things around. And great Los Angeles leadership to see the possibilities, but if it means it will help keep Los Angeles safe, then it certainly is a righteous strategy. One that could not only be beneficial to the people of Los Angeles and the surroundings neighborhoods, but for the United States as a whole.
Is safety a micro or macro issue?
It is important to point out that safety starts at the personal level. If you take the personal safety precautions that we will discuss later in this article, you can expect to have a generally great and safe time in Los Angeles.
We will now quickly highlight the safety risk for different sectors/activities in Los Angeles…
-Overall Safety Rating: Medium
-Safety When Taking Taxis: High
-Safety When Enjoying Nightlife: Medium
-Safety In Residential Areas: Depends on the area
-Safety Level In Areas With Tourist Attractions: High
A Simplified Guide On How To Know If Your Chosen Residential Neighborhood In Los Angeles Is Safe
As mentioned earlier, the safety rating for residential areas across Los Angeles depends on the specific neighborhood. Below are a few tips on how to identify safe areas to relocate to in Los Angeles.
– On visiting the area, you can see young kids moving and playing across their neighborhoods freely
– The locality has many thriving local businesses that are open for long hours
– There are neighborhood security watches manned by neighborhood property owners
– The data provided by crime watch analysts indicates that the locality has a consistently low crime rate
– There are regular community programs and events organized by homeowners in the area
– Police presence is almost non-existent
Top Tips On How To Stay Safe In Los Angeles
Though the authorities often do all within their power to keep a neighborhood safe, the best way to keep yourself and your loved ones safe is to take steps to guarantee your safety. For example you can:
– Avoid walking alone at night in neighborhoods that are considered unsafe
– When visiting new areas, ensure that you protect your possessions
-Report any suspicious persons or activities to the police without delay
– Try to avoid travel in unsafe neighborhoods especially at night
– Become an active participant in neighborhood programs/activities that are designed to enhance safety levels in your locality
– Implement safety precautions provided by the police
– Since most establishments accept credit card payments, avoid walking around with bundles of cash
– Before moving into an area, carry out thorough research to ascertain that the neighborhood will provide a safe living environment for you and your loved ones
Keep Reading: What Is Considered The City Of Los Angeles?
—
REAL RocknRoll Movers is the only moving company in Los Angeles that rocks! Follow us on Instagram, Facebook and Twitter, or contact us today for a free moving quote!