Moving? Here's Our Most Frequently Asked Questions:
Why do I need to include so much detail about my move including all the items being moved and the access?
Our estimates are based solely on the inventory and access details you provide. It is very important for you to be sure to provide an accurate list of all the items that will be moved along with accurate details about the access including long walks, stairs, elevators , etc. This will help ensure the amount you pay is as close as possible to the estimate you received.
Can you tell me exactly how much my move will cost me?
Because there are so many variables and every situation is so unique, it's hard to provide an exact quote for a move. The info you provide helps us give you an estimate and can help get a ballpark figure for the job. We provide a Not To Exceed price for all moves.
How far in advance do I need to book my move?
At least 2 weeks is always preferred. The end of the month is the busiest time for moving, so please contact us well in advance to make sure that we have availability. Weekends are people's preferred move days, so if you have the flexibility to move during the week, we can often accommodate moves with shorter notice.
Are you licensed and insured?
We are licensed with the state of California ( Cal-T 190785) and the US Dept. of Transportation (USDOT# 3196979). We fully insured with Liability Insurance, Cargo Insurance and Workers Comp Insurance.
What is your delivery range?
We perform moves anywhere within CA.
Do you do moves to other states?
We do not offer interstate moving at this time.
Do you pack my stuff or should I do it?
We offer full packing services at great rates. They would need to be scheduled when your move is booked. In the event you do not schedule packing services and choose to pack yourself, all items will need to packed and ready to go prior to our arrival on move day.
Do you have moving pads, wrapping supplies, dollies and straps for the job?
Yes. Our trucks come equipped with all necessary dollies and equipment to handle your move successfully. All furniture items are covered with moving pads and then stretch wrapped to ensure safe travel.
How do you charge for breaks, lunch etc.?
All lunch and rest breaks will be deducted from your final move time.
Is it customary to tip the movers?
Yes it is customary to tip your movers. The average tip is $10 per guy per hour and can be added to your final bill, although cash is preferred and appreciated.
Are the Movers Employees and are they Background Checked?
Yes. All movers are employees of REAL RocknRoll and must pass a full background check. We do not hire any day laborers or outside labor.
Do you perform On-site Estimates?
Yes we do! For larger moves we will send one of our friendly estimators to survey the move and collect details. If you have a larger move (typically 3 or more bedrooms or any commercial move) feel free to call us @ 818-859-7625 to set up an on-site visit.
Why are you guys so incredibly good looking?
Awww…shucks
Ready to rock with our moving company Los Angeles County? Get An Estimate Right Now!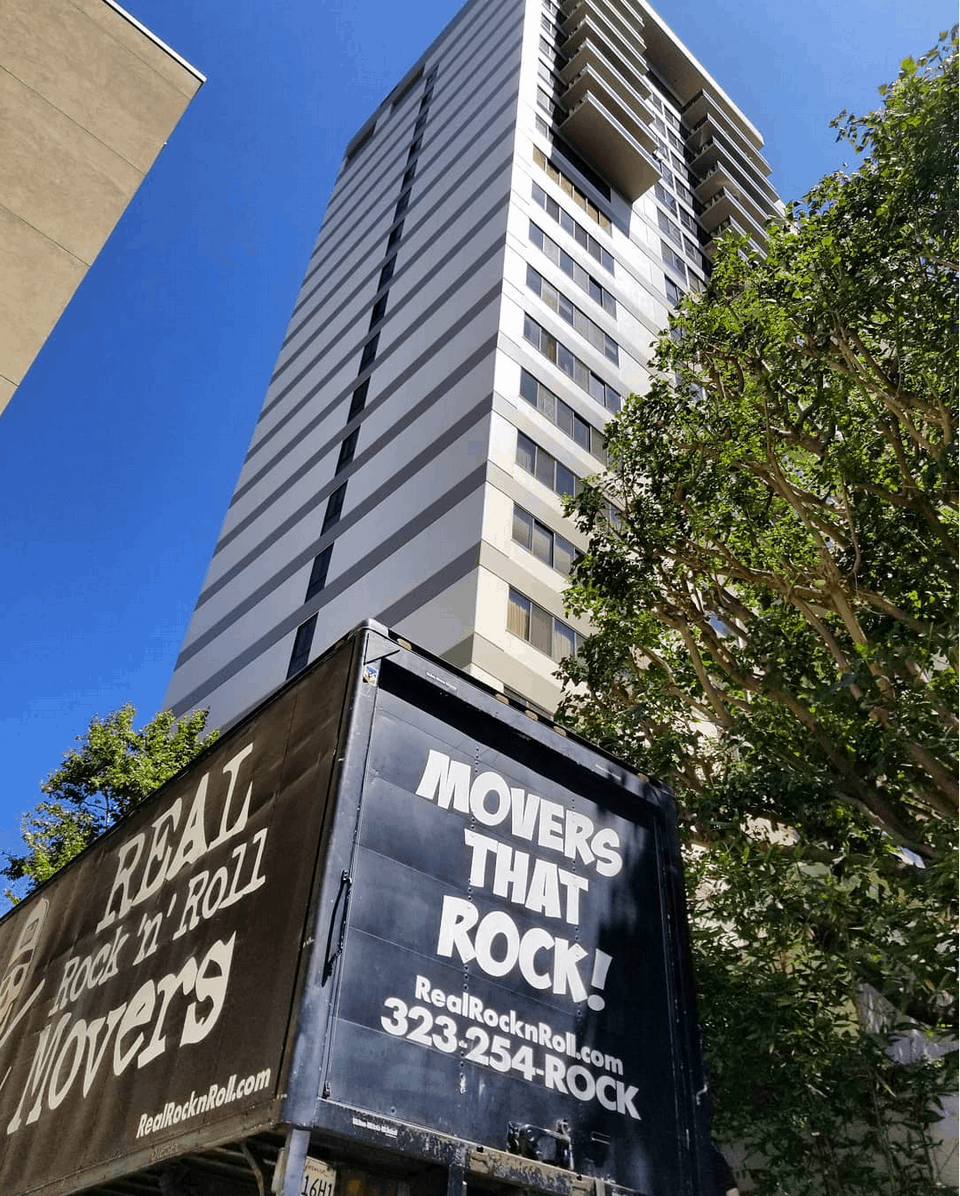 Ready To Plan Your Move?
We are ready help you take the stress out of moving!