Los Angeles is a vivid place with a trendy way of life. If you're looking for things to do in this bustling city, it's well worth your time to take a trip to the downtown area.
Key takeaways
From iconic cultural institutions to the countless modern restaurants that will surely pique your appetite, DTLA can be exciting to explore if you know where to look. Whether you want to spend the day at the Grand Central Market or venture into the stunning Walt Disney Concert Hall, it's easy to fill your upcoming weekend with new adventures and intriguing sights to see!
Keep reading, and we'll share ten of our favorite things to do in the City of Angels.

See Related: Where To Find The Best Views of the Hollywood Sign?
#1. Indulge in delicious eats at Grand Central Market
The downtown area of Los Angeles is an exciting place to spend some time.
Though DTLA houses the majority of the City of Angels' tall buildings, the cultural institutions are pretty evenly spread across its streets.
Whether you're a local looking to fill your weekend with some new and exciting activities, or you're a tourist looking to make the most of your time in LA, with the right bucket list, you'll never have a dull moment!
Make the move to LA
Want to make Los Angeles your forever home? You can rely on our team at the Real Rock N' Roll Movers to make your dream a reality.
We've been serving the Los Angeles area for years, and can handle anything that might come our way. From carefully packing fragile items to handling that heavy sofa, our moving company can make your relocation seamless!
You can never go wrong with tasty treats
If you are looking for something to do in DTLA, you can't go wrong with indulging in some of the delicious food here.
And by waltzing through the Grand Central Market, you'll be able to make your pick of what you want!
Even if you're not hungry, this iconic location is still worth a trip.
There's a hearty mix of countless cultures, and you'll be able to mingle in a unique mirage of backgrounds.
However, the food, hands down, is perhaps the most intriguing part of this place!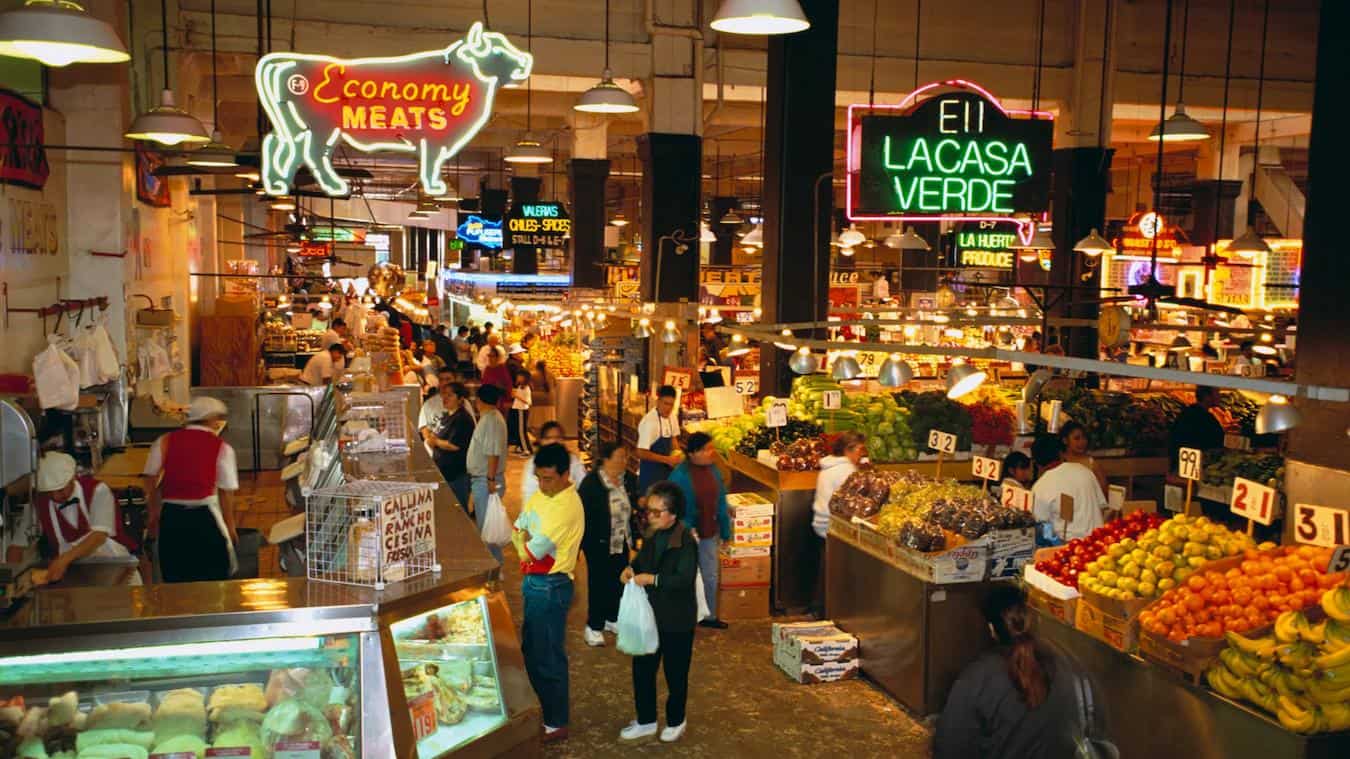 From egg sandwiches to Jewish delis, your stomach is sure to be satisfied
This market was opened in 1917, and since then has accumulated plenty of trendy and enticing food stands and stalls.
It's not just a market but a vast retail marketplace and diverse food emporium!
Some of the places here like Eggslut, PBJ.LA, G&B Coffee, and Shiku have become pretty trendy eateries and have helped shape LA's foodie revival.

There are also greengrocers, fishmongers, and butchers, in addition to plenty of stalls for coffee, cheese, baked goods, and dry goods.
#2. Visit the iconic architecture of Walt Disney Concert Hall
Everyone knows that LA has a potent music scene.
And the crown jewel of the Music Center is none other than the iconic and breathtaking Walt Disney Concert Hall.
This venue only opened somewhat recently, in 2003, and the intrigue still has yet to subside.
Even walking by the building on the street is enough for some, as the outer architecture is absolutely stunning and one-of-a-kind.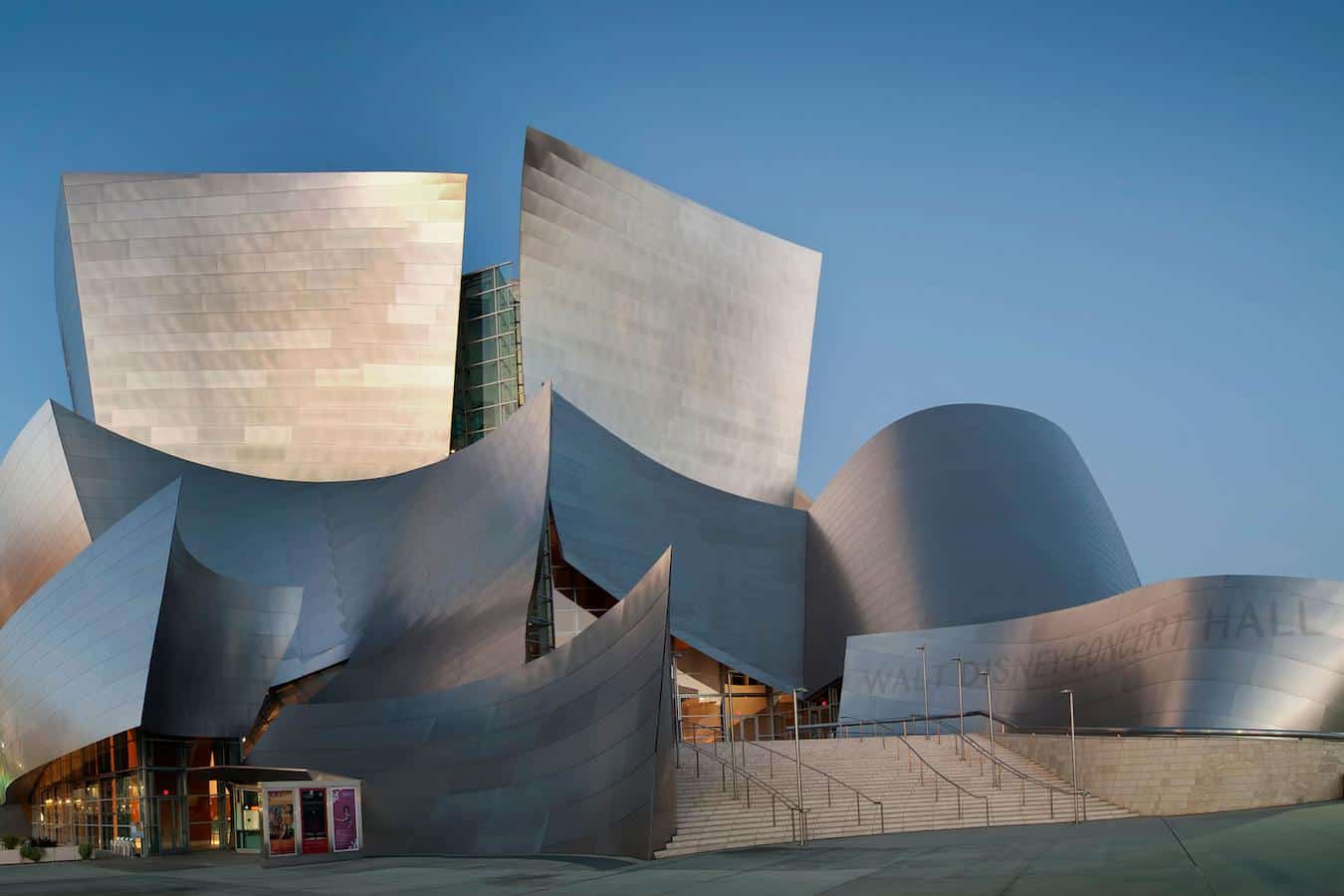 Unique architecture and breathtaking acoustics
It sits across the street from The Broad (which we'll dive into later) and is by far a very notable part of DTLA.
This building was designed by architect Frank Gehry and has some of the best acoustics in LA.

Whether you want to watch a live concert or take a walking tour of its intricate walls, this place is a must-visit if you find yourself in downtown Los Angeles!
#3. Walk the vibrant streets of Chinatown
Only a few blocks up from Olvera Street is gorgeously stunning Chinatown.
This historic and lively location is integral to the vibe of downtown Los Angeles and has plenty of engrossing events around traditional Chinese holidays like the Full Moon Festival and Chinese New Year.
This isn't some small Chinatown, either. It's a large and expansive place with countless restaurants, shops, galleries, markets, and even temples that are widely spread.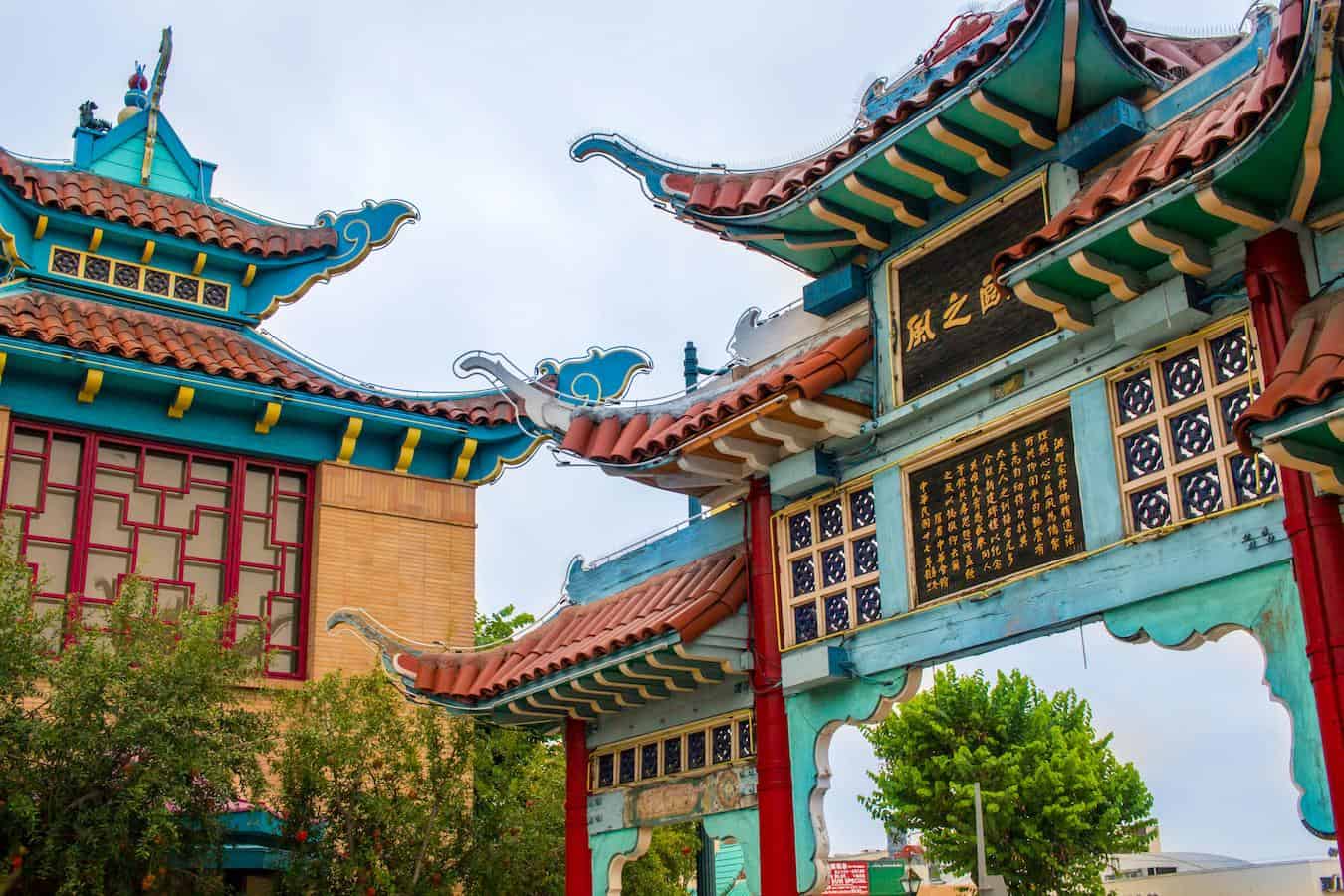 Streets lined with traditional Chinese lanterns and endless shops and eateries
From the Chinatown Gateway Monument to Chinatown's Central Plaza, you'll be able to find plenty of culturally diverse and intriguing things to do.
From sightseeing Bruce Lee's statue to stepping foot inside aromatic and delicious Asian bakeries, there are plenty of things to do here if you're in downtown Los Angeles.

Be sure to try the dim sum at LA's Chinatown, which is what it's well-known for!
#4. Soak in the rich history of the Bradbury Building
Downtown Los Angeles has seemingly no shortage of stunning architecture and stunning buildings.
If you're looking to be absolutely impressed, it's well worth your time to head to the Bradbury Building.
From the open-cage elevators to the marble stairs, this place truly stands alone as one of LA's more breathtaking attractions.
Inside of its Romanesque shell is a beautiful Victorian-inspired court filled with natural light and plenty of history.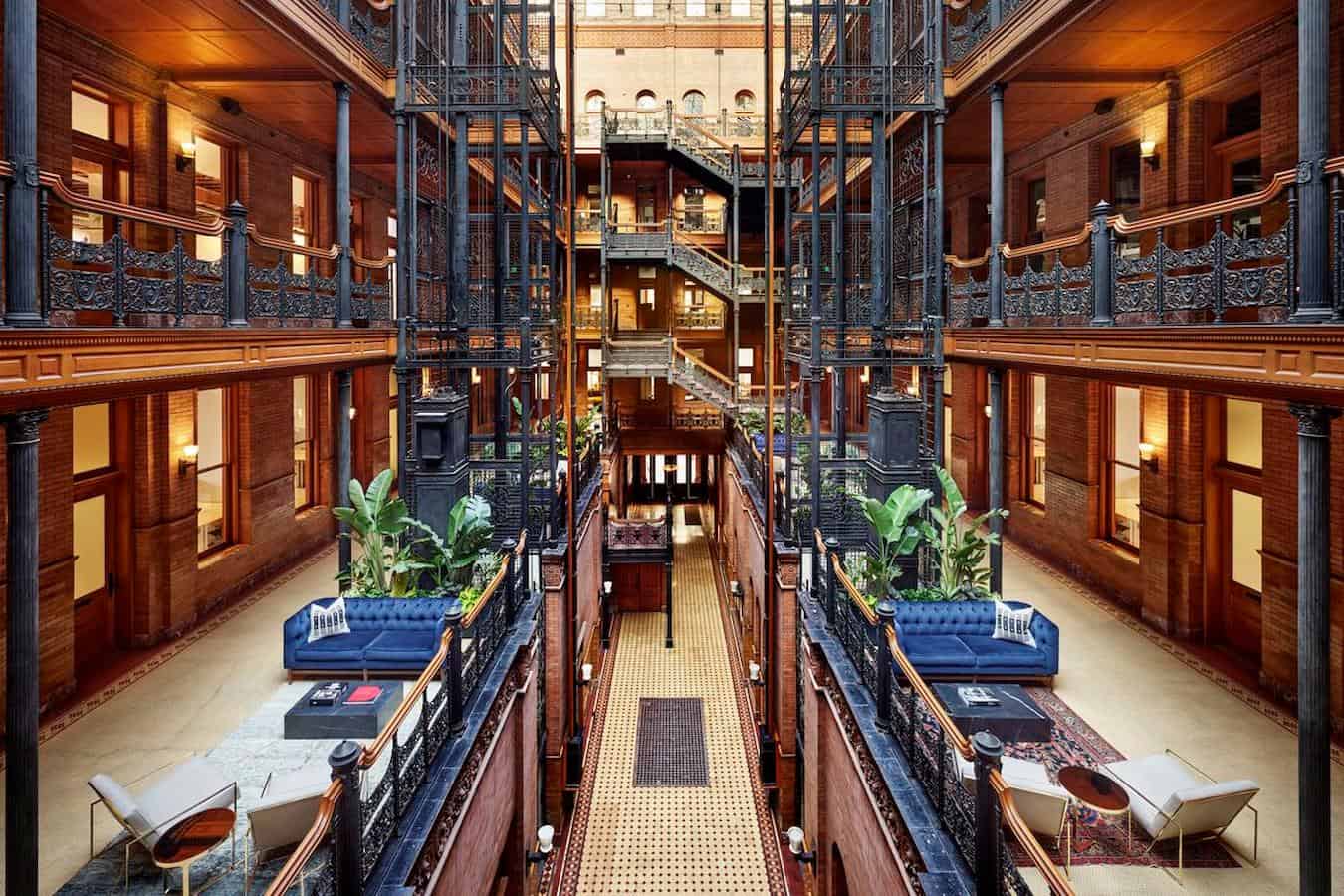 Stunning architecture that will take your breath away
However, this place isn't only known for its amazing architecture.
This place was also featured in the science-fiction movie Blade Runner.
What's even better is that the Bradbury Building is free to the public during their operating hours. There's no reason not to go!

Bonus: What is minimum wage in Los Angeles?
#5. Visit the artistic The Broad Museum
Downtown Los Angeles has no shortage of cultural attractions and stunning works of art.
Plus, there are plenty of museums to visit!
If you're interested in the arts, your first stop should be The Broad Museum, a highly popular gallery and contemporary art museum that became famous thanks to its amazingly photogenic attractions.
The most "Instagram-able" art in downtown Los Angeles
From big tulips to the mirror room, it's easy to get swept away in the amazing nature of this museum.
Plus, there's a larger-than-life table that you are able to easily walk underneath!
One of the most intriguing attractions is the Infinity Mirrored Room from Yayoi Kusama, which is a mirror room lit with LED lights that help create a magical atmosphere.
If you don't get a ticket in advance, you might need to wait a bit in line.

However, it is a free museum, so you won't need to pay to get in!
#6. Explore the unique architecture of Union Station
Though it's not very common to travel in the United States via train, there's the perfect place in downtown Los Angeles to give into your sense of adventure and wanderlust.
The Union Station is a Los Angeles train station that houses some spectacular architecture finished off with some beautiful Art Deco touches.
From the faux wood beamed ceilings to the marble waiting area, this train station is nothing less than extraordinary.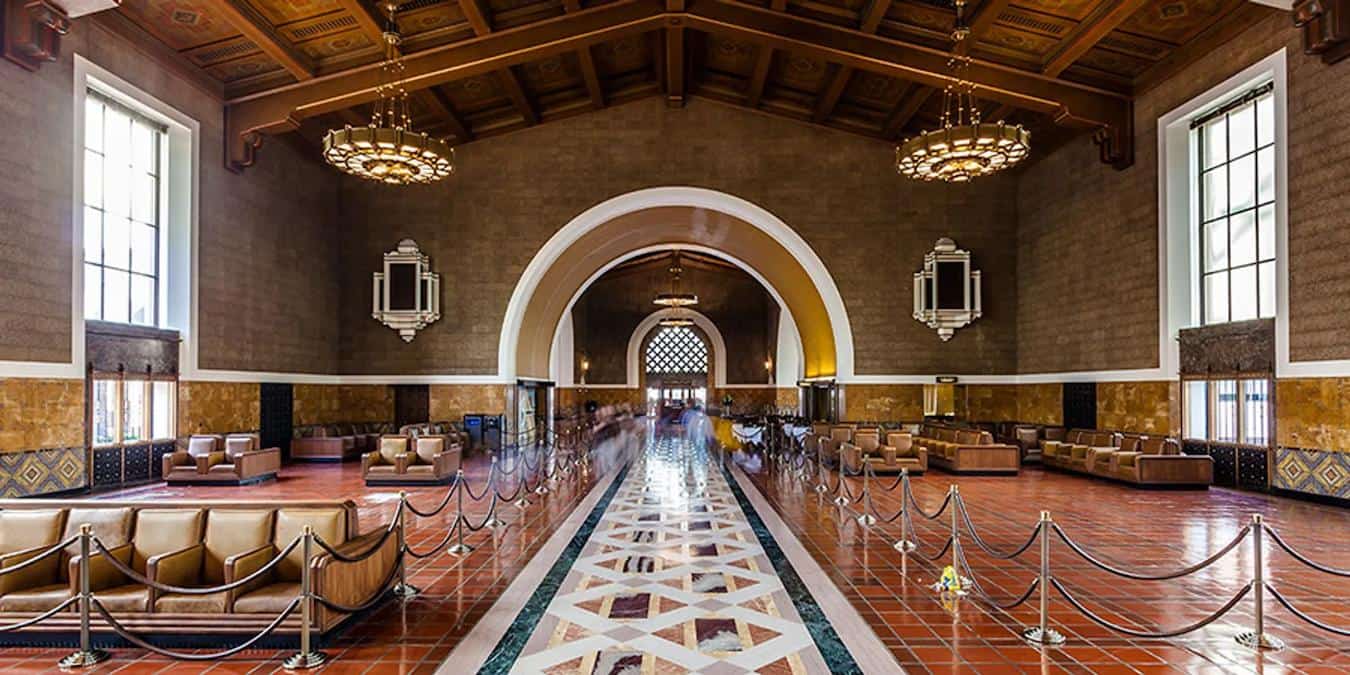 An attraction in and of itself that offers an amazing introduction to LA architecture
If you want to spend an entire day soaking in the sight of Los Angeles, this is the perfect place to start.
To begin with, it offers some seamless public transportation to other amazing attractions while saving you from the heartbreaking traffic of LA's bustling streets.

This traveling hub is alone enough to visit, and its practical use is an added bonus!
#7. Walk along the iconic and attractive Olvera Street
Downtown LA has plenty of history and cultural intrigue.
And one such place is known as Olvera Street.
In 1781, the oldest part of Los Angeles was first established as a primarily farming community.
Now, this street is colorful and lively, with plenty of amazing restaurants, vivid market stalls, and uplifting mariachi music.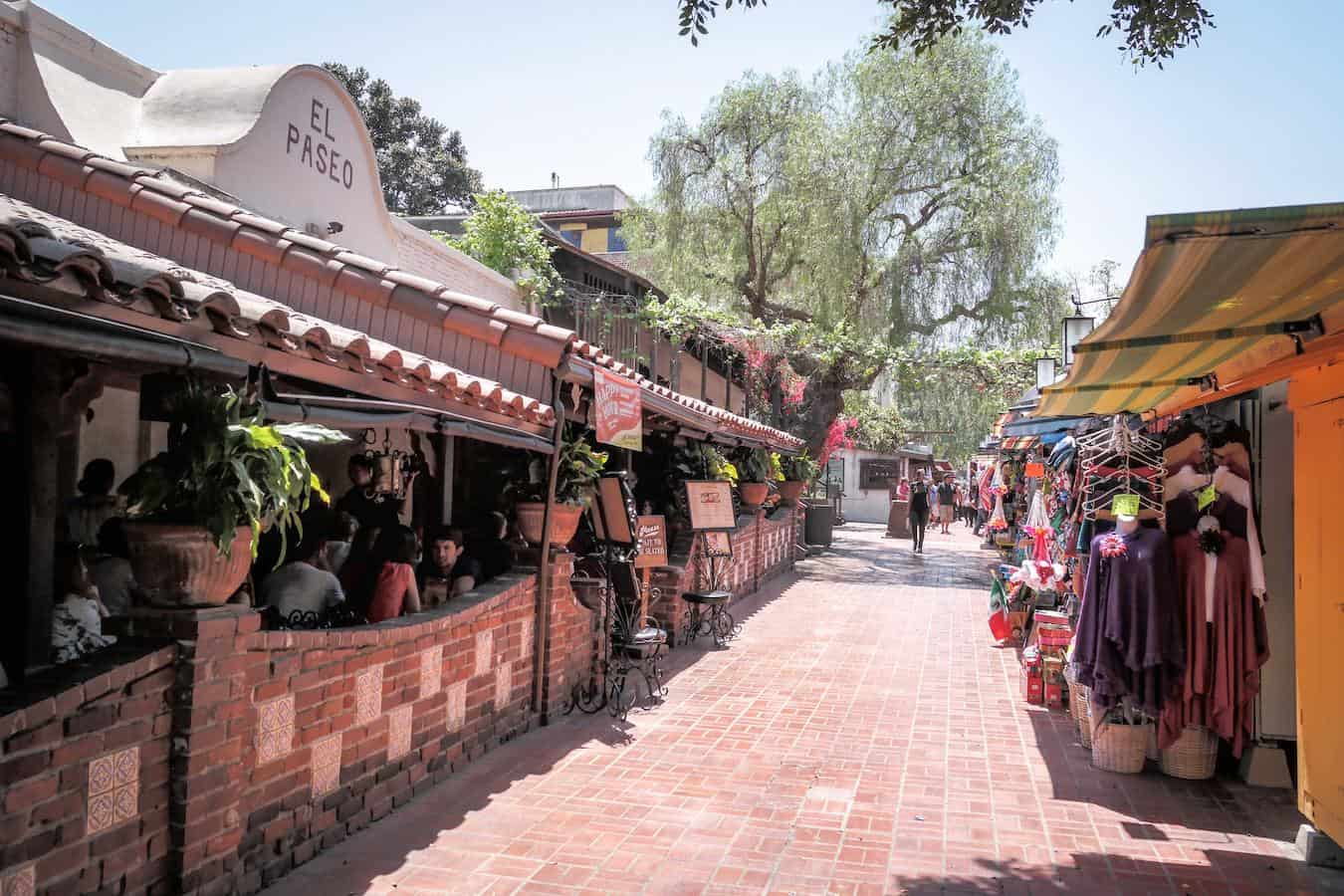 A gorgeous part of downtown LA that celebrates Mexican culture
This area is surrounded by iconic Spanish-styled buildings and old cobblestone streets that help create such a heartfelt appeal.
It's not too surrounded by the highrises of downtown Los Angeles, so you can still enjoy that authentic vibe.

Though it's well worth it any time of year to walk down these streets, some of the best times to visit are Dias de Los Muertos and Cinco de Mayo.
#8. Stand on the observation deck at LA City Hall
The 32-story Los Angeles City Hall is an iconic part of this city.
It has impressive architecture with an exquisite facade matched with a stunning interior.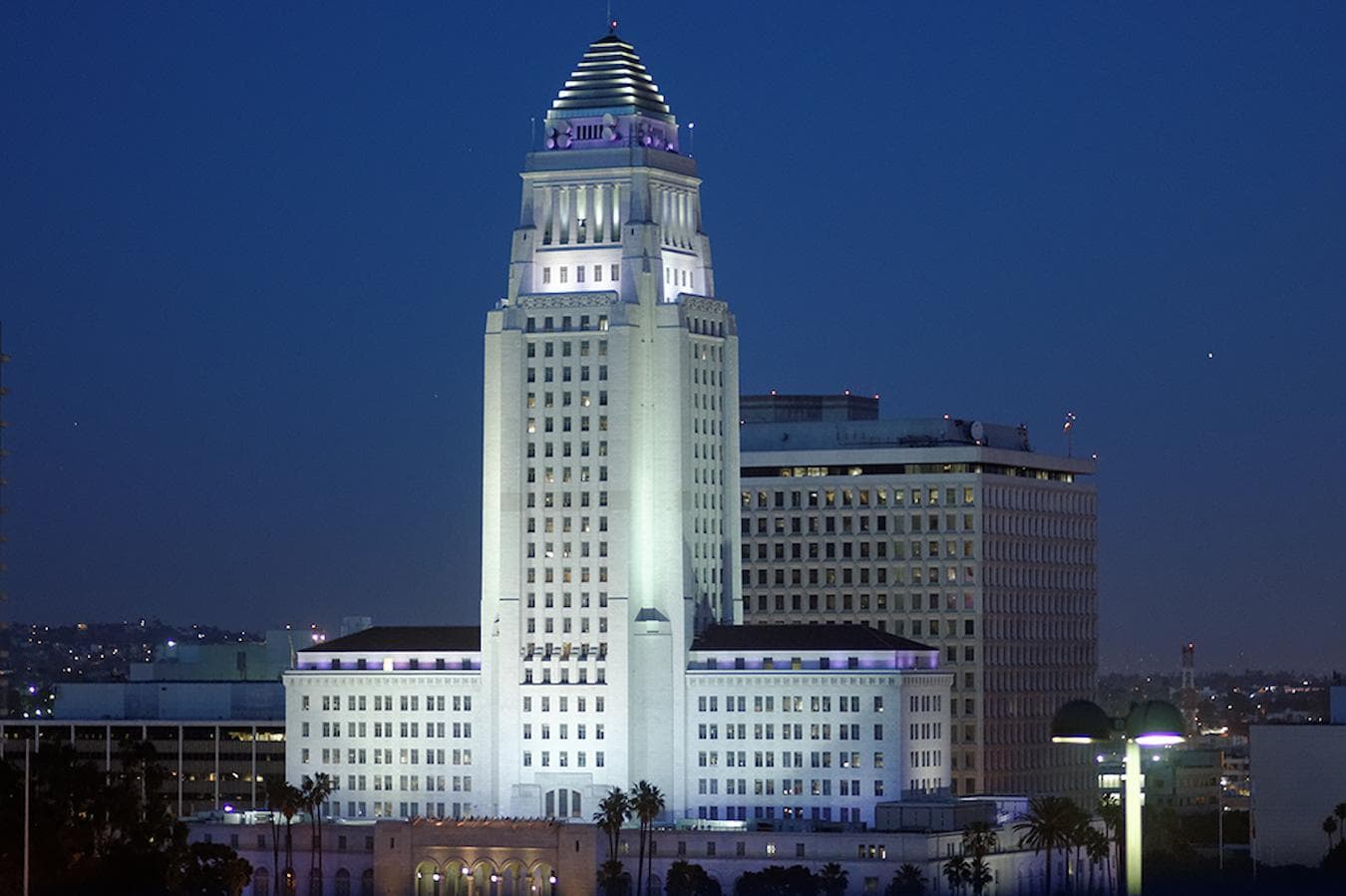 Though this building is enough to pique anyone's interest, the real catch lies on the 27th floor.
There, there is an observation deck where you can view Los Angeles in a breathtaking way, seeing as far as the Hollywood Sign.
What's even better is that it's totally free to see those 360-degree views of the city.

That makes it all the more enticing!
#9. Pack a picnic to take to Grand Park
One of the best parts of living in Los Angeles is the incredible weather.
We're blessed to have plenty of sunny days and warm weather, so there are plenty of fun things to do in downtown LA that take place in the outdoors!
In 2012, 12 acres of gorgeous Grand Park officially opened to the public, offering a great place to spend a peaceful day or evening.
From the bright pink benches to refreshing water fountains, this cute getaway spot even hosts plenty of community events, gatherings, and entertaining performances.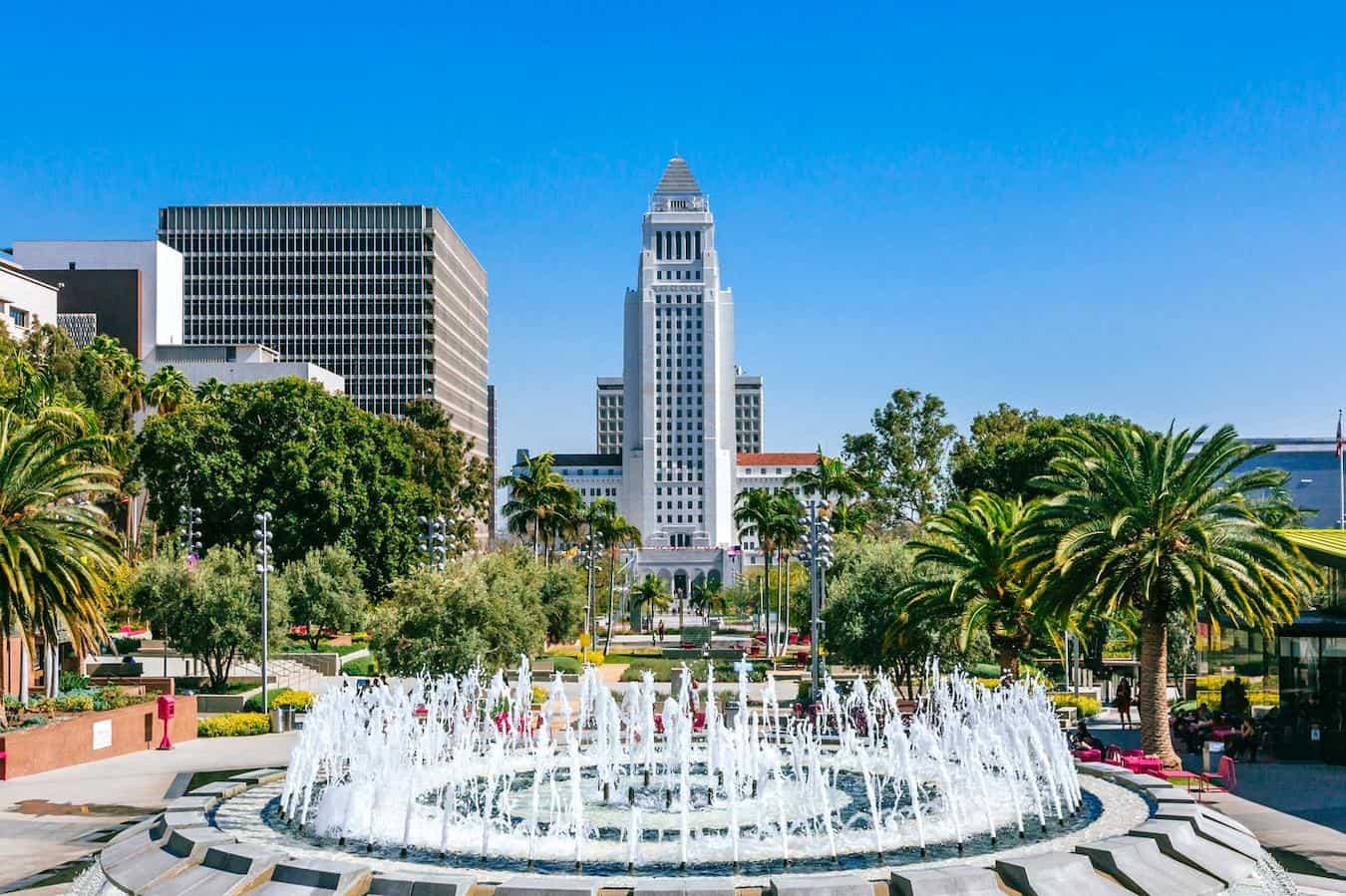 Get in your daily steps while soaking in the wonderful atmosphere
This park is right by Los Angeles City Hall, so it'll be easy to fill your day with fun things to do!

Pack a picnic, and prepare to soak in some sun rays and people-watch.
#10. Venue into vivid Little Tokyo
If you're in the heart of downtown LA and near Chinatown, you can easily make a trip to Little Tokyo.
This area is full of Japanese-related shops, restaurants, and temples.
Founded in 1884, this historic core offers a variety of unique experiences for locals and tourists alike, whether you want to sample some traditional cuisine or purchase a few charming Japanese treats.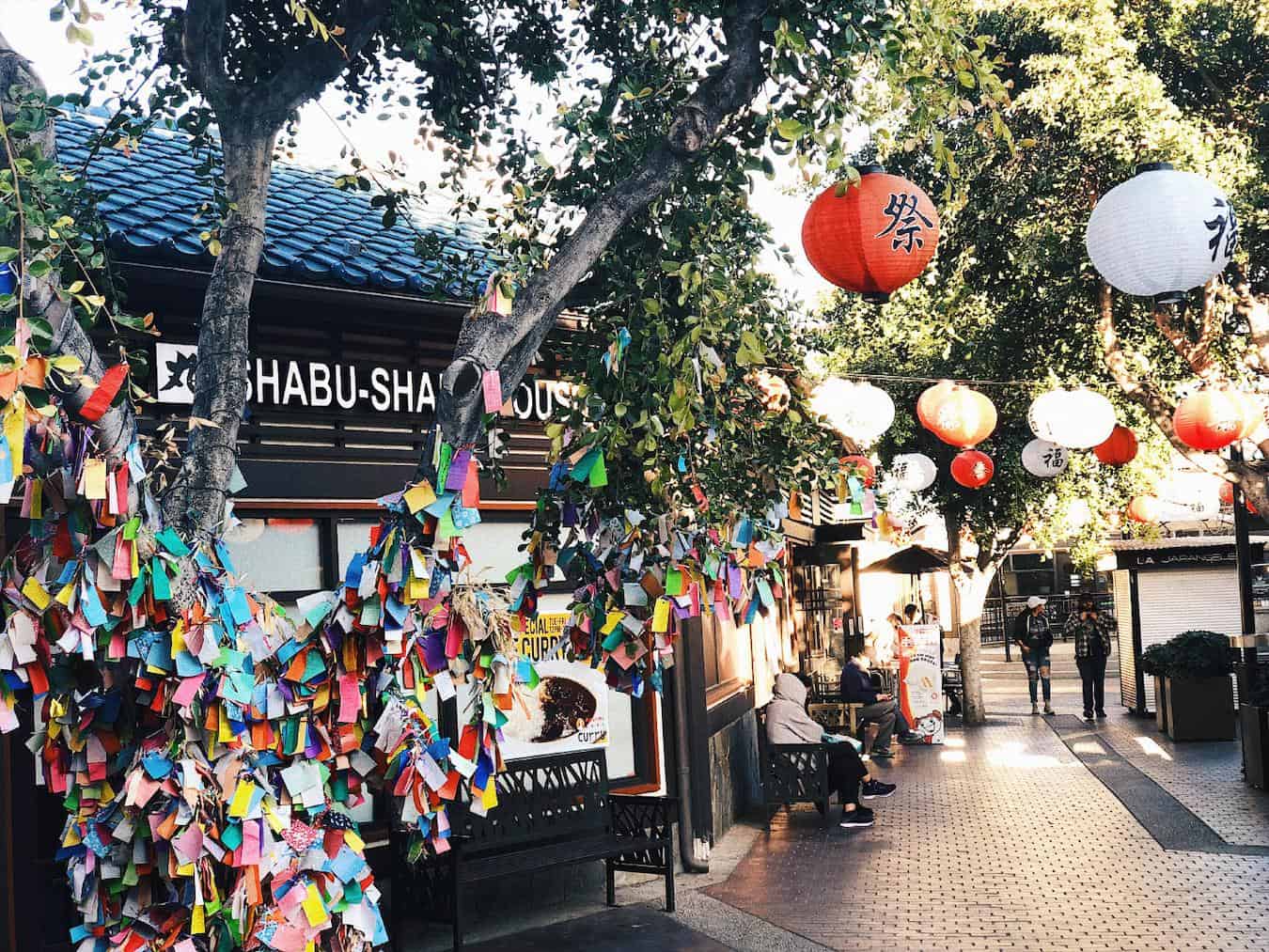 Home to North America's largest Japanese-American population
Plus, Little Tokyo is home to the largest Japanese-American population in all of North America.
The centerpiece of this vibrant area is the Japanese Village Plaza Mall, which is adorned with adorable bright paper lanterns.
One of the best places to go to is the ramen restaurant known as Daikokuya, and indulge in some delicious eats!
If you have some extra time, you should also try going to the Japanese-American National Museum to learn more about the history of this area.
Wrapping up
Whether you're an LA local or a tourist, these things to do in the downtown area are sure to fill your time with fun and exciting activities.
Keep Reading: Where Does LA Get Its Water?
__
REAL RocknRoll Movers is the only moving company in Los Angeles that rocks! Follow us on Instagram, Facebook, and Twitter, or contact us today for a free moving quote.