Los Angeles is ranked among the top cities to visit (and move to) in the United States. The beautiful city of Los Angeles is filled with so many landmarks such that ranking their importance becomes difficult. These landmark attractions in Los Angeles have commanded global recognition and appeal over the years.
If ever you get confused about which attractions in Los Angeles to check out, here is a list of the 5 important landmarks to see when visiting Los Angeles.
1. Walt Disney Concert Hall
Walt Disney Concert Hall is a must-see for anyone with a good taste for music. With a seating capacity of just over 2000, you can't help but fall in love with Frank Gehry's architectural masterpiece. Walt Disney had a passion for the arts and culture in the City of Los Angeles. After his death, his wife gifted the people of Los Angeles this performance venue in 1987, paying tribute to her late husband. The concert hall made its grand opening on October 24, 2003. Deep in Downtown Los Angeles, you will find Frank Gehry's work of creation. The Los Angeles Philharmonics Orchestra, amongst others, is a notable name that has called the Walt Disney Concert Hall home since it made its grand opening.
Aside from the structural beauty of this concert hall, the acoustics designed by Minoru Nagata was the cherry on top of an exquisite cake. The concert hall's acoustics have drawn rave reviews and commendations by performers and critics all over the world. There is an added sonic dimension that this concert hall brings; one could easily say music comes alive here. A large concert organ was also included in the design of this hall, and it was completed and first used in 2004.
The curved stainless skin of the building will give one a "love at first sight" feeling. Gehry outdid himself with this design, and his little tweak in the design from stone to metal was a stroke of genius. There are details added to the light-filled interior of this concert hall, which gives ambiance. There is also a vineyard-style seating arrangement in the auditorium; this makes the concert viewing a delight. There is also a fine dining restaurant called Patina in the concert hall. This restaurant serves wonderful French and California cuisine.
The Walt Disney Concert Hall has featured in movies, reality TV shows, Children's series, video games, etc. in times past. It's no surprise, don't you agree? Everyone wants a piece of this grand spectacle. So if you are visiting downtown Los Angeles, be sure to walk in to see this important landmark firsthand.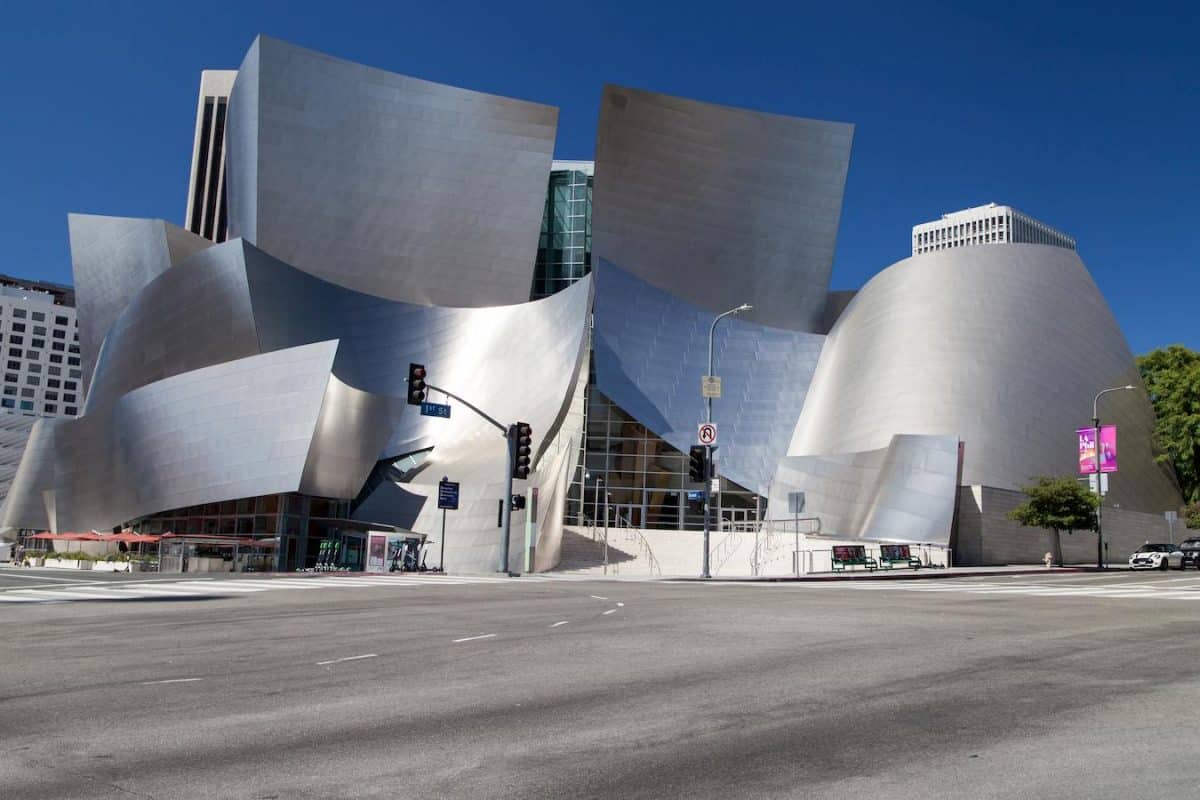 2. Hollywood Sign
If ever you need a picture or video that would give you many views, likes, shares, and comments on social media, capture it next to the Hollywood Sign. This site has become an important landmark and tourist attraction in Los Angeles, recording over ten (10) million visitors annually. You would find the Hollywood sign on Mount Lee. In 1923, the now-famous sign was created as an advertising tool for a real estate company. Due to its growing global recognition, they let them sign up.
The sign is about 45 feet tall, 300 feet long, with the word "HOLLYWOOD" spelled out boldly in white capital letters. The sign was designed by the architect, Thomas Fisk Goff, and has undergone structural changes over time. From 1923 to 1978, the sign used wood and structural design, which made it vulnerable to vandalism. A new steel structural system with a well-detailed security system was implemented sometime in 1978. The installation of the security system was aimed to curb vandalism and trespassing.
The sign is located on a rough and steep terrain in the Southern Part of Mount Lee in Griffith Park, bounded to the north by the Mulholland Highway, and to the south by the Forest Lawn Memorial Park. There is a wavy appearance of the sign when it is viewed from the lower grounds but straight when viewed from the same height.
We see the Hollywood Sign a lot in popular culture. Movies and video game franchises attempt to imitate and replicate this important landmark. The hollywood sign in Los Angeles is truly the centerpiece of the city. It overlooks other iconic tourist attractions in Los Angeles like the La Brea Tar Pits to the south, the historic Santa Monica Pier to the west, and the famous Rodeo Drive in beverly Hills and the Hollywood Walk of Fame on Hollywood boulevard just below the illustrious Hollywood hills. Be sure to book a Hollywood Sign tour on your next visit to Los Angeles.
See Related: 10 Best Neighborhoods To Move To Within Los Angeles
3. Will Rogers State Historic Park
The estate of American humorist Will Rogers in the Santa Monica Mountains in Los Angeles is now the Will Rogers State Historic Park. In 1944, following the death of Mrs. Rogers, the ranch became a state park. The ranch is about 186 acres and contains a 31-room ranch house, stable, riding ring, golf course, polo field, and also a riding and hiking trail.
Since the acquisition of the ranch by the state, there have been renovations made, which include seismic safety work, repair and replacement of electrical systems, heating systems and air conditioners installed, etc. which the house was reopened to the public in March 2006. We can find the State Historic Park on the top of the Santa Monica Mountains, and it has trails that visitors can hike to and also move around throughout the park.
The polo field catches your attention first when you visit the park. This field is the only outdoor field in all of Los Angeles. Another major spot is the Visitors Center, which has a feature film of the life of Will Rogers and an audio tour of the grounds. The state has upheld a strong maintenance culture; one might think that Rogers' still lives there. The ranch house's living room design is Native American-themed, with a porch swing seen in the center of the room alongside a mounted calf.
The Will Rogers State Historic Park is a pleasant location for outdoor recreational activities like camping, golf, etc. I recommend this park for romantic picnics and family bonding time. The Will Rogers State Historic Park has been featured in movies and TV shows, most notably, Star Trek IV.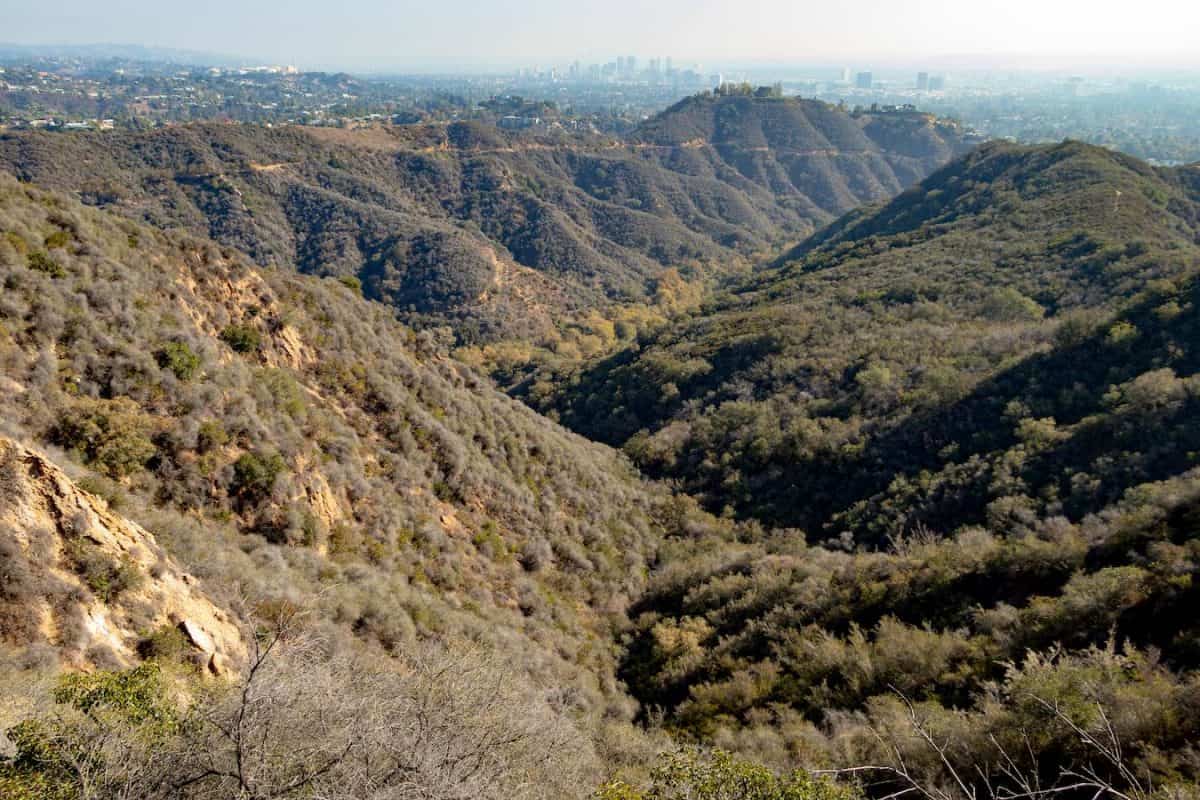 4. Griffith Observatory
Another tourist attraction and an important landmark that you should be whenever you get the chance to visit Los Angeles is the Griffith Observatory. Architects John C. Austin and Fredrick M. Ashley used a Greek revival and art décor architectural style design for this building. Griffith J. Griffith donated over 3,000 acres of land surrounding the Observatory to the people of Los Angeles on December 16, 1896. His plan and aim was to set up an observatory that would be easier for the public to access and appreciate astronomy and other science-related things.
The construction of this building began on June 20, 1933, and was open to the public on May 14, 1935. There were over 13,000 visitors recorded in just five days of the Observatory's opening. So far, they have set a record of over 7 million people come through to view their 12-inch Zeiss refractor telescope.
Griffith Observatory sits on the South of Los Angeles, facing Mount Hollywood, and gives a delightful view of the Los Angeles Basin. The Observatory offers a closer view of the Hollywood Sign and space and other science-related displays. The Observatory temporarily closed for renovation and expansion in 2002 and was reopened to the public on November 3, 2006, still keeping its Greek art décor. There are several items on display in the Griffith Observatory, which include: the Foucault pendulum, which can be used to demonstrate the rotation of the earth. The Zeiss refracting telescope, a triple-beam coelostat, and a 38-foot relief model of the North Polar Region of the moon are also on display. There is also the largest astronomically accurate image ever constructed seen on a wall in the Observatory.
One advantage of this important landmark is that admission into the Observatory is free, zero charges. This was a direct order seen in the will of Griffith J. Griffith. Planetarium shows are offered 8 times a day on weekdays and 10 times during the weekends. There is also a free public telescope viewing in the Observatory, provided the weather allows for viewing. The Griffith Observatory has been a wonderful filming location for top Hollywood movies, TV shows, and music videos. Top Hollywood movies like The Terminator, La La Land, etc. have used the Observatory as a filming location. Also, the Observatory has been featured in some top game franchises too.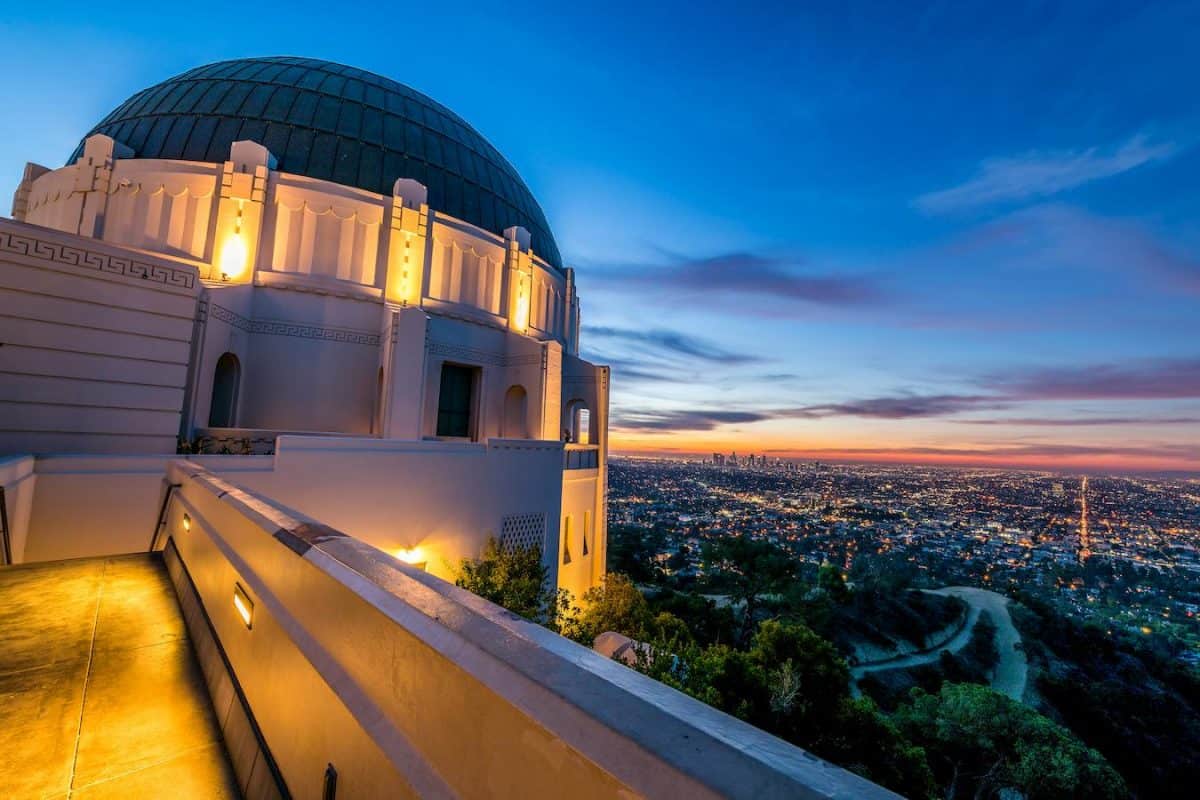 Bonus: Los Angeles Nightlife: Things To Do 2020
5. Universal Studios Hollywood
Another important landmark you should see while visiting the beautiful City of Los Angeles is the Universal Studios Hollywood. It is one of the oldest and most famous film studios in Hollywood. Universal Studios Hollywood is not just a film studio, but also a theme park with a large part of the studio located in Universal City and the other part in Los Angeles.
Universal Studios Hollywood began operation as a movie studio on April 30, 1912. Universal City was later opened on March 14, 1915, by Carl Laemmle. They started offering tours around their studios, which became a profitable venture until the coming of sound films that led to the tours' discontinuity in the 1930s. On July 15, 1964, the modern tour and theme park was established.
Universal City has hotels, a collection of shops, restaurants, Universal Cinema, and a seven-story IMAX Theater. Universal Studios Hollywood contains 9 rides, 7 shows, and a large outdoor play area, and the area is split into two- Upper Lot and Lower Lot. The Upper Lot contains lots of family-based attractions, while the Lower Lot features service gift shops and quick-service restaurants. You are almost certain to meet with a Universal Studios Hollywood character roaming the park grounds. In 2017, the park had a record of over 9 million guests despite the nine fire damages over time hitting this significant landmark.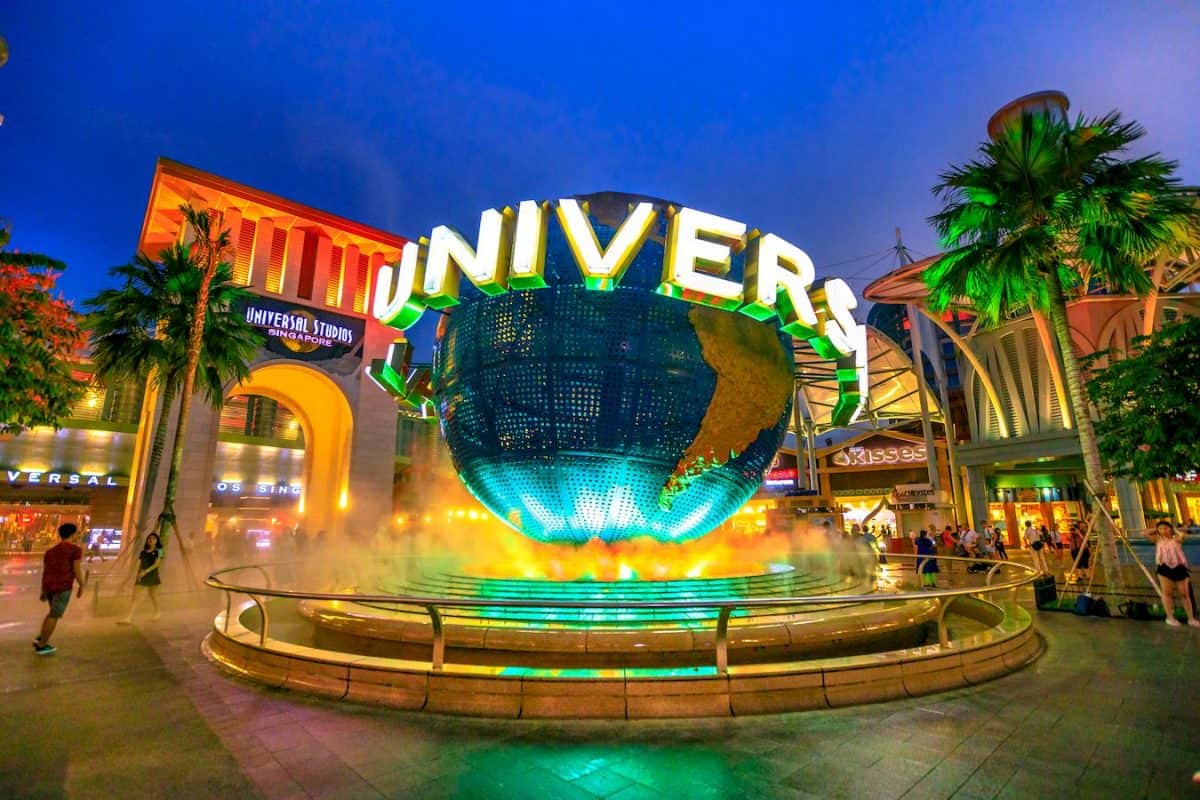 Honorable Mention List Of Los Angeles
Unlike other major cities that have an attraction cap, Los Angeles is almost limitless. There really is so much that this city offers that it truly is not only the entertainment capital of the United States, but rather the world. It's the very thing that makes Southern California one of the most desirable places to live. Aside form our top 5 list, here are a few other must-see attractions in Los Angeles.
West Side Is The Best Side
If you've driven through the United States on one of those epic cross-country road trips, then you might be familiar with route 66. And if you follow the route from east to west, you will end at the most beautiful finish line. It ends at the world famous Santa Monica Pier. What a way to end a route.
The route actually goes straight through Beverly Hills along Santa Monica Boulevard past Rodeo Drive in Beverly Hills and basically right into the Pacific Ocean. You can literally park your car under the palm trees of Santa Monica, and run straight into the Santa Monica Pier to celebrate your arrival with a ride on the Santa Monica pier ferris wheel. While on the ferris wheel, look south at muscle beach on Venice Beach or north to Malibu.
You might even see the world famous J Paul Getty Center museum. Actually you might be able to see the J Paul Getty Center Museum in both of its locations; the Malibu Getty Center or main Brentwood Getty Center. Once you've had enough of the rides on the Santa Monica pier, take a beach cruiser and cruise down to Venice Beach. The shops and people watching is world famous. Venice Beach is unlike anywhere you've ever been, especially in Los Angeles.
Become A Star On Hollywood Boulevard
After an all star day in West Los Angeles, head back East to Hollywood for some star watching. This is moment you've been waiting for. Take a stroll on Hollywood Boulevard and walk the world famous Hollywood walk of fame. This is where dreams are made! From Robert De Niro to Lucille Ball, you name it, the Hollywood walk of fame has it! It starts at the world famous chinese theatre and runs along a major stretch Hollywood boulevard in Los Angeles. The Hollywood walk of fame is truly a must.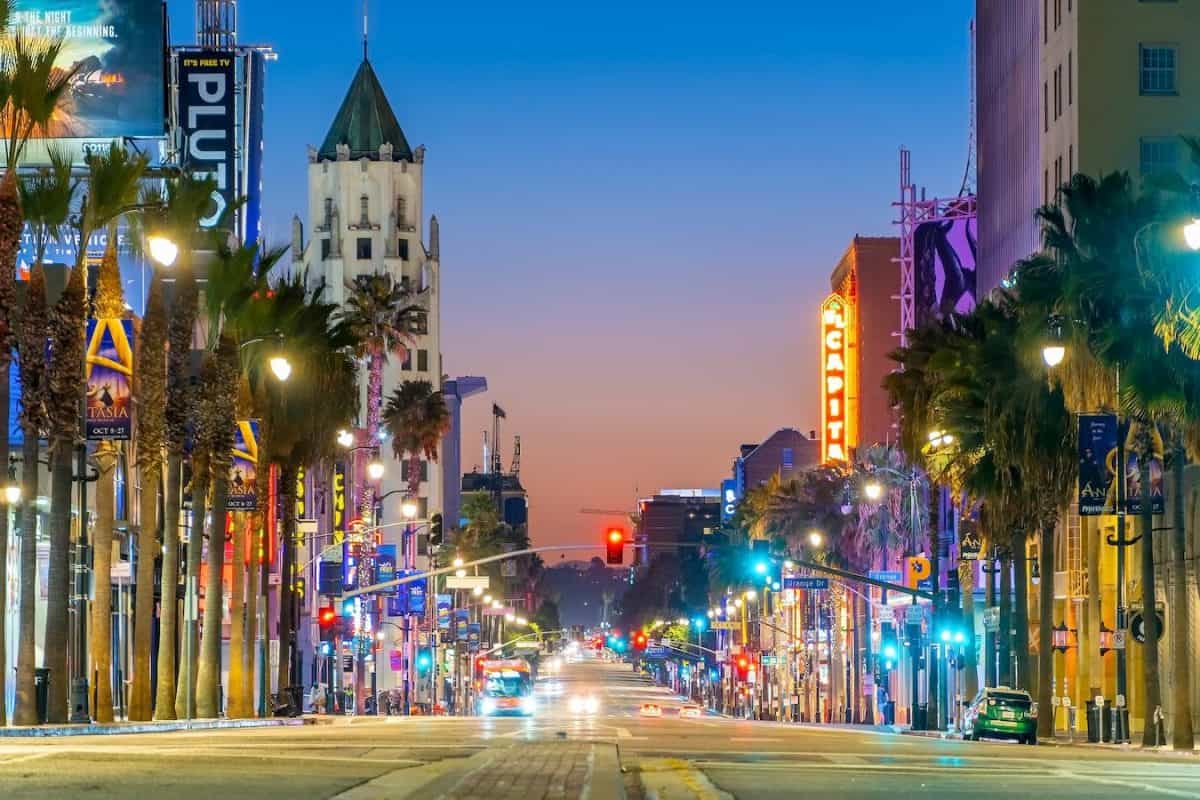 Diamonds Are Shinier In Beverly Hills
There is something to be sad about the flashiness of Beverly Hills. Whether it's the paparazzi's camera flashes on Rodeo Drive, or the luxurious cars and clothes and people that strut down the streets of Beverly Hills, it really is a luxurious experience. Los Angeles really is a shiny diamond all around. And it being only a stone throw away from other places like the La Brea Tar Pits or the trails of Griffith park, Los Angeles truly has everything your heart desires.
So There You Have It, The Top Landmarks To Visit In Los Angeles
Having listed 5 important landmarks to see when visiting Los Angeles amongst many others, I'm sure you already get the feels of being there already. You can plan now to make your next vacation or tour about seeing live any, if not all, of the listed 5 important landmarks to see when visiting Los Angeles.
Keep Reading: The Best 5 Hospitals In Los Angeles, California 2020
—
REAL Rocknroll Movers is the only moving company in Los Angeles that rocks! Follow us on Instagram, Facebook and Twitter, or contact us today for a free moving quote!